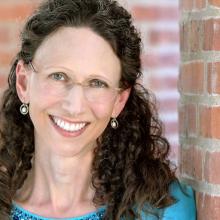 Jennifer Herdt
Gilbert L. Stark Professor of Christian Ethics, Yale Divinity School
Biography
Jennifer A. Herdt is Gilbert L. Stark Professor of Christian Ethics and formerly Senior Associate Dean for Academic Affairs at the Yale University Divinity School.  Her most recent book, Forming Humanity: Redeeming the German Bildung Tradition, was supported by a research fellowship from the Alexander von Humboldt Foundation.  She is also the author of Putting on Virtue: The Legacy of the Splendid Vices (selected as a Choice Outstanding Academic Title), and of Religion and Faction in Hume's Moral Philosophy, and has published widely on virtue ethics, early modern and modern moral thought, and political theology. She serves on the editorial boards of the Journal of Christian Ethics, Studies in Christian Ethics, and the Journal of Religion, and served as the 2020 President of the Society of Christian Ethics. Her newest book, Assuming Responsibility: Ecstatic Eudaimonism and the Call to Live Well is forthcoming with Oxford University Press. She is a senior member of a research team that has received a $3.9M, 3-year collaborative grant from the Templeton Foundation in 2020 to pursue projects in science-informed theological anthropology.
Academic biography
https://divinity.yale.edu/faculty-and-research/yds-faculty/jennifer-herdt
Research topics
Imago Dei, Dehumanization, and Justice




I am examining key instances in which champions of universal human dignity and defenders of the doctrine of the

imago dei

have engaged in explicit dehumanization of enemies to legitimate enslavement, capital punishment, etc.  Does this represent a moral failure? theological failure? philosophical failure?  evolutionarily-ingrained tendency?  How might affirmations of universal human dignity be secured against such forms of dehumanization?


 

I am exploring theological understandings of human dignity, agency, and moral standing in light of recent scientific research on non-human animals, coming from the disciplines of ethology, evolutionary biology, comparative social psychology, and evolutionary psychology.  Must traditional theological anthropologies be revised?


 

I am interested in reflecting on the relationship between grace and nature in light of disability.  Traditionally, Christians have affirmed that all wounds and disabilities are eschatologically healed.  However, recently these claims have come under fire from disability theologians, who argue that appropriate respect for the identities of persons with disabilities requires that one affirm that their disabilities will not be eschatologically removed.


 

I am interested in formulating sociologically and scientifically-informed theological-ethical responses to populism and nativism.  Effective responses require a fuller understanding of these phenomena and of why they are on the rise globally.  
Contributions to GlobalFacultyInitiative.net