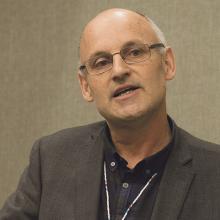 Murray Rae
Professor of Theology at the University of Otago, New Zealand
Biography
He teaches courses in Christian Theology and Ethics at the University of Otago. He began his working career as an architect in private practice before studying theology and philosophy in New Zealand, Germany and the UK. From 1998-2004 he taught theology at King's College, London, and was previously a chaplain at the University of Auckland. His varied research interests include the work of Søren Kierkegaard, theological ethics, theology and architecture, the theological interpretation of Christian Scripture, and Māori Engagements with Christianity. His ethical interests have focused on Christian responses to war, crime and violence, and to the challenges of dealing with past injustice, notably the illegal confiscations of Māori land in New Zealand. His published works include Resurrection and Renewal (Grand Rapids: Baker Academic, 2024), Architecture and Theology: the Art of Place (Waco, TX.: Baylor University Press, 2017), Christian Theology: The Basics (London: Routledge, 2015), Mana Maori and Christianity, (Wellington: Huia, 2012), Kierkegaard and Theology (London: Continuum, 2010), History and Hermeneutics (London: T&T Clark, 2005) and Kierkegaard's Vision of the Incarnation (Oxford: Clarendon, 1997).
Academic biography
https://www.otago.ac.nz/theology/staff/otago013660.html
Research topics
The development of a theological account of what makes a good city, and of how that might be represented in architecture and the built environment.
Exploring the resurrection of Jesus as the decisive clue to what is going on in history. God is at work, redemptively drawing creation towards its true end in reconciled communion with himself, and enabling it to flourish as was intended from the beginning.
Contributions to GlobalFacultyInitiative.net