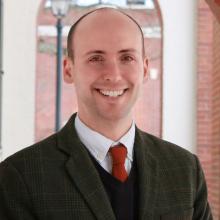 Ryan McAnnally-Linz
Associate Director of the Yale Center for Faith & Culture

Lecturer in Humanities at Yale College
Biography
He teaches the highly regarded Life Worth Living seminar at Yale College. His scholarly work sits at the intersection of Christian systematic theology, ethics, and cultural analysis. He has focused on contemporary ethics of interpersonal recognition and their implications for a Christian account of humility. Together with Miroslav Volf, he is the author of Public Faith in Action: How to Think Carefully, Engage Wisely, and Vote with Integrity. He is also co-editor of Envisioning the Good Life and The Joy of Humility: The Beginning and End of the Virtues. His scholarly articles have appeared in Modern Theology, The Journal of Religion, The Scottish Journal of Theology, and Psychology of Religion and Spirituality. He has also written essays and articles for wider audiences in Sojourners, The Christian Century, and The Washington Post's "Acts of Faith." 
Academic biography
https://divinity.yale.edu/faculty-and-research/yds-faculty/ryan-mcannally-linz
Research topics
A theological account of home and contextual theological ethics of home-making and home-maintenance.


 

Whether understanding Christology primarily through the prism of the problem of revelation (i.e., Jesus Christ as the one who, above all, reveals God) puts systematic theological pressure on how to understand the resurrection and ascension of Christ--in particular, whether it restricts the senses in which Christ can be said to be alive and active today.


 

Whether a compelling account of gratitude to God can be developed without appealing to the paradigm of debt to explain the obligatoriness of such gratitude. 
Contributions to GlobalFacultyInitiative.net