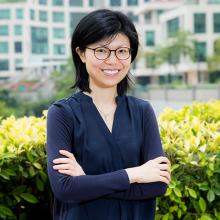 Karen Man Yee Lee
Assistant Professor in the Department of Social Sciences at the Education University of Hong Kong
Biography
She holds a BA (Political Studies) and an LLB from the University of Auckland and a PhD in law from the University of Hong Kong. Her research spans law and its dynamics with culture, politics, society, and human rights. Karen is interested in how ordinary citizens perceive the rule of law and legal institutions and the variations therein. Her publications cover human rights discourse, rule of law and democratization, rule of law culture and education, and legal mobilization. A recent article (with Lo Yan-lam) discusses the contesting visions of Hong Kong's rule of law and young people's political discontent (Social & Legal Studies, Forthcoming). She is currently researching the professional identity of Hong Kong solicitors from a qualitative perspective, having published several papers on the public roles of Hong Kong lawyers ("Lawyers as an interest group in Hong Kong's democracy movement" in Sonny S.H. Lo (Ed.), Interest Groups and the New Democracy Movement in Hong Kong (Routledge, 2018), 34-61; "Lawyers and Hong Kong's democracy movement: from electoral politics to civil disobedience", (2017) Asian Journal of Political Science, 25:1, 89-108; and "Beyond the 'professional project': The political positioning of Hong Kong lawyers", (2017) International Journal of Law, Crime and Justice, 50, 1-11). She also writes occasional columns and shares her academic works at  http://ied.academia.edu/MYKarenLee.
Academic biography
https://www.eduhk.hk/ssc/myklee
Research topics
How do Hong Kong solicitors perceive their identity vis-à-vis society, the professional community, and the city's fraught political landscape? [Law as a means of fulfilling a calling and/or sustaining a living; The professional and public duties of lawyers].


 

To what extent does public trust in legal authorities affect people's tendency to obey the laws?
Contributions to GlobalFacultyInitiative.net