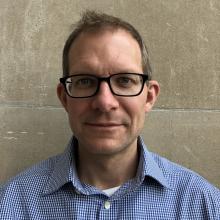 Kyle Dugdale
Critic, Yale School of Architecture, Yale University
Biography
He is an architect and architectural historian. He teaches history, theory, and design at Yale School of Architecture and at Columbia Graduate School of Architecture, Planning and Preservation. He holds a BA from Corpus Christi College, Oxford, an MArch from Harvard's Graduate School of Design, and a PhD from Yale. His work has been published in journals including Perspecta, the Journal of Architectural Education, Utopian Studies, and Sacred Architecture; his first book, Babel's Present, was published in 2016.​ He maintains an interest in architecture's claims to metaphysical significance, with a particular curiosity for architecture as a recurring figure in biblical narratives. He works on the Tower of Babel—particularly its appropriations in the years leading up to World War II—and, more broadly, on architectural monuments as markers of identity, aspiration, and belief. His research has been supported by the Andrew W. Mellon Fellowship of Scholars in Critical Bibliography, the John Hay Whitney Fellowship, the Harvey Fellows Program, and awards from the Society of Architectural Historians, the Bibliographical Society of America, and the Beinecke Rare Book and Manuscript.
Academic biography
https://www.architecture.yale.edu/faculty/329-kyle-dugdale
Research topics
I am working to finish—and then publish—the manuscript of a book that explores the implications for the discipline of architecture of the notion of "the death of God," examining (among other things) the relationship between God–as–architect and architect-as-God,

the change in the status of human creativity when the existence of a divine creator is no longer assumed, and 

the notion of religion as a primarily human construct to be understood in the image of architecture—all in the context of the study of an early twentieth-century re-telling of the story of Babel.
 

I am beginning a research project entitled "The City and Its Gods," aiming to challenge the conception of the contemporary city as a primarily godless place, and arguing that the old gods have simply been replaced with new gods, largely unrecognized.


 
On the side, I am wondering how best to respond to what is, I think, a notable overrepresentation of Christians among the ranks of those committed to traditional (and especially classical) vocabularies of architecture. What accounts for this imbalance on what remains a highly contentious topic?

Is it a matter of affinity, of predisposition, of politics, of prejudice, or of doctrine?

—and should Christians agree to disagree, or is this a debate that is susceptible to theological explication?
Contributions to GlobalFacultyInitiative.net