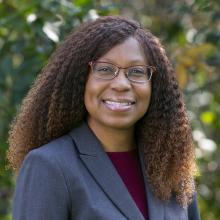 Franciska A. Coleman
Assistant Professor of Law, Associate Director East Asian Legal Studies Center, University of Wisconsin Law School
Biography
Franciska Coleman is an Assistant Professor of Constitutional Law at the University of Wisconsin Law School and the Associate Director of the East Asian Legal Studies Center. She is an interdisciplinary scholar, whose work draws upon political theory, critical discourse analysis, and constitutional law.
Professor Coleman is deeply interested in the social justice implications of race and class hegemony in constitutional interpretation and in the effects of institutionalized oppression on the self-governing capability of vulnerable groups. Professor Coleman's current research projects focus on 1) understanding the anatomy of cancel culture and its effects on marginalized groups as speakers and 2) understanding the relationship between equal protection and political power. 
Prior to joining the faculty of UW Law School, Professor Coleman was a Visiting Assistant Professor at Washington University in St. Louis and also held a Visiting Scholar appointment at Harvard Law School.
Professor Coleman previously taught American Constitutional Law I and II at Yonsei Law School in Seoul, South Korea. During that time, she worked closely with the Korean government on several initiatives, such as international roundtables on offensive speech held by the Korean Communication Standards Commission and efforts by the Korean Legislation Research Institute to make Korean statutes more accessible to foreign communities.
Prior to her time in Korea, Professor Coleman worked as an associate in the litigation and appellate practice groups at Covington & Burling in Washington, DC. She received her JD from Harvard Law School and her PhD in Literacy, Culture and International Education from the University of Pennsylvania. While studying at these institutions, she was awarded the AAUW Selected Professions Fellowship and the Fontaine Fellowship.
Academic biography
https://secure.law.wisc.edu/profiles/facoleman@wisc.edu
Research topics
I research the mechanics and impact of the social regulation of speech, of which cancel culture is one manifestation. My current project on this topic focuses on adjunct faculty.
I also research how to improve the self-governing capabilities of poor/working class racial and ethnic minorities in a browning America.  In my current projects, I critique both traditional civic republicanism approaches and traditional liberalism approaches as in sufficient to resolve the democratic legitimacy crisis that exists for this group.
I also research the potential of using amendment and constitutional making in the U.S. to address the current democratic legitimacy crisis.