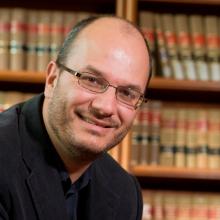 Nicholas Aroney
Professor of Constitutional Law, The University of Queensland
Biography
He is also a Fellow of the Centre for Public, International and Comparative Law, a Research Fellow of Emmanuel College at The University of Queensland, a Fellow of the Centre for Law and Religion at Emory University and an External Member of the Islam, Law and Modernity research program at Durham University. He has held visiting positions at Oxford, Cambridge, Edinburgh, Sydney, Emory and Tilburg universities, a Visiting Professor at the University of Paris II (Panthéon-Assas), and a Visiting Fellow of the Institute of Advanced Study at Durham University. He has published over 100 books, journal articles and book chapters in the fields of constitutional law, comparative constitutional law and legal theory. His publications in these fields include: The Constitution of a Federal Commonwealth: The Making and Meaning of the Australian Constitution (Cambridge University Press, 2009), Shari'a in the West (Oxford University Press, 2010) (edited with Rex Ahdar), The Future of Australian Federalism (Cambridge University Press, 2012) (edited with Gabrielle Appleby and Thomas John), The Constitution of the Commonwealth of Australia: History, Principle and Interpretation (Cambridge University Press, 2015) (with Peter Gerangelos, James Stellios and Sarah Murray) and Courts in Federal Countries (Toronto University Press, 2017) (edited with John Kincaid). He has made numerous submissions to government inquiries.
Academic biography
https://law.uq.edu.au/profile/1098/nicholas-aroney
Research topics
Current research projects:
State sovereignty in theological perspective: what is it, what is wrong about, and what is right about it? What implications does this have for international and global law? 


 

Human dignity in theological perspective: what is its relationship to human nature, to human virtue, and to human community?  


 

Religious speech and hate speech in international human rights law: where are the lines drawn, and where should they be drawn? Does Australian law comply with Australia's international obligations? 


 

Jurisdictional boundaries between religious groups and state law: a long-term comparative inquiry into how these boundaries are constructed in different national and cultural contexts. 


 

Participation in current debates in Australia about the protection of religious freedom (in the aftermath of an Australian government inquiry, of which I was a panel member).


 

Christianity and constitutionalism: an edited collection of essays exploring this topic from historical, legal and theological points of view. 
Contributions to GlobalFacultyInitiative.net