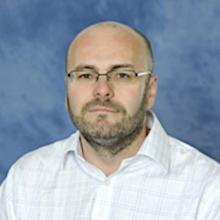 John Coffey
Professor of Early Modern History, University of Leicester
Biography
He completed his PhD at the University of Cambridge, and has taught at Leicester since 1999. His research addresses the relationship between religion, politics and ideas in the Protestant Atlantic world. He has written on puritanism and evangelicalism, persecution and toleration, and slavery and abolition. He is the author of four books, including Persecution and Toleration in Protestant England (2000), and Exodus and Liberation: Deliverance Politics from John Calvin to Martin Luther King (2014). His recent publications include an article on John Milton's political theology and a chapter on the use of the Bible in the Demerara slave rebellion. He has edited The Cambridge Companion to Puritanism, with Paul Lim (2008); Seeing Things Their Way: Intellectual History and the Return of Religion, with Alister Chapman and Brad Gregory (2009); Heart Religion: Evangelical Piety in England and Ireland, 1690-1850 (2016); The Oxford History of Protestant Dissenting Traditions, vol. I: The Post-Reformation Era (2020); and Reliquiae Baxterianae, 5 vols, with N.H. Keeble (gen. ed.), Tim Cooper and Thomas Charlton (2020). His current collaborative project is an edition of the diaries of William Wilberforce for Oxford University Press. He is involved in the Cambridge Papers writing group and the Christianity and History Forum.
Academic biography
https://www2.le.ac.uk/departments/history/people/staff-pages/jcoffey
Research topics
Slavery and Abolition. I am working on several projects related to the contest over racial slavery in the British Atlantic World, 1760-1840. (i) A scholarly edition for Oxford UP of the Diaries of William Wilberforce; (ii) a microhistory of the missionary chapel at  the epicentre of the 1823 Demerara slave rebellion; (iii) a religious history of the contest over racial slavery in Britain and its colonies. 
Persecution, Toleration and Religious Liberty. I have a longstanding interest in how Protestants came to reject the use of coercion in matters of religion, and how they came to embrace religious toleration and eventually religious liberty. I've considered this in Persecution and Toleration in Protestant England (2000), and most recently in an essay on 'How Religious Liberty became a Natural Right'. 
Reception History of the Bible. I'm interested in the various (and competing) ways that the Bible was used in the struggles over slavery and persecution. I looked at one aspect of this in Exodus and Liberation (OUP, 2014), which contributes to the current resurgence of scholarship on the political use and impact of the Bible. 
Contributions to GlobalFacultyInitiative.net