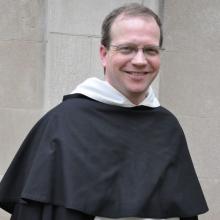 Thomas Joseph White
Rector Magnificus, Thomistic Institute, Angelicum

Professor of Theology, Pontifical University of St. Thomas (Angelicum), Rome, Italy
Biography
Thomas Joseph White is the Rector and professor of theology at the Pontifical University of St. Thomas (Angelicum) in Rome, a Roman Catholic priest, and a Member of the Order of Preachers (Dominicans). His research is concerned mainly with God and Christology, metaphysics, and the use of philosophical reflection within Christian theology, relations of faith and natural human reason, and the historical influences of Christian theology on philosophical reasoning. He is the author of five books, including from Catholic University of America Press, The Incarnate Lord: a Study in Thomistic Christology (2015) and The Trinity: On the Nature and Mystery of the One God (2022), and is the author of  many articles and essays, as well as the editor or co-editor of six books. He is the previous founder of the Thomistic Institute in Washington DC, a member of the Vatican Pontifical Academy of St. Thomas Aquinas, and co-editor of the theological journal Nova et Vetera.
Academic biography
https://angelicum.it/thomistic-institute/about-us/
Research topics
He is interested in ways that ideas from Thomas Aquinas have been and can be employed in modern Christian thought as a helpful resource for thinking about perennial questions of metaphysics, ethics, and religious belief. 
Contributions to GlobalFacultyInitiative.net